In a speech titled "Raise the Bar: Lead the World," U.S. Secretary of Education Miguel Cardona outlined three priorities for American education in 2023—achieve academic excellence, improve learning conditions and create pathways for global engagement. While some thought the speech might be a platform to announce a new initiative at the Department of Education (ED),  Cardona siad he simply was inviting stakeholders to join him on a "journey of transformation in education." Notably for AFSA, Cardona discussed the importance of professional development for educators.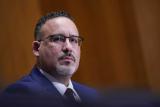 To deliver transformational change,  Cardona urged everyone to act boldly and unapologetically to address student underperformance and decades of underinvestment. He pointed to the American Rescue Plan as a historic investment in education and argued that it allowed schools to reopen swiftly and got students back on the right track. He asserted that this investment was a prime example of the Biden administration being about substance rather than sensationalism, and delivering for the American people. However, he also said it would not be sufficient to return to the pre-COVID status quo in American education, and urged listeners to focus unrelentingly on the instructional core. Cardona used this as an opportunity to call again for the bipartisanship he said he witnessed in the early days of the COVID-19 pandemic. 
Along with his call for bipartisanship, Cardona's messaging seemed anticipatory of the House Committee on Education & the Workforce Republicans' agenda for the 118th Congress. Chairwoman Virginia Foxx of North Carolinahas stated that she plans to conduct aggressive investigation and oversight of school reopenings and use of American Rescue Plan funds, as well as to make the Parents Bill of Rights a centerfold piece of legislation. These were all points that Cardona seemed to respond to throughout his speech and subsequent fireside chat. 
Cardona first highlighted raising the bar on academic excellence. He argued that we must set higher standards for academic success in reading and math. Cardona pointed to a recent PISA test, stating that it was unacceptable that the United States placed 36th out of 79 countries in math, and urged attendees to do better and act like "our national security depends on it." He highlighted the following ways to improve academic achievement: 
Provide students access to financial literacy 
Ensure students can take high-level math courses that prepare them for college and STEM careers 
Follow the science of literacy to ensure students have strong decoding skills 
Encourage districts to take a close look at instructional materials to ensure high standards so that an "A" means something
Include and embrace the arts 
Reject a school experience that is narrowed to only what is tested 
Recognize standardized tests work best when they serve as a flashlight on what works and what doesn't, not as hammers that drive desired outcomes from the top down
Get behind President Biden's call for universal early childhood education
The second area Cardona highlighted was learning conditions; he called for shifting investment in mental health supports to go from a reactive school model to a proactive model that focuses on a student's overall well-being. He said the American Rescue Plan and the Bipartisan Safer Communities Act are vehicles for increased access to mental health supports in schools. 
In addition, Cardona argued that the teaching profession must be respected to improve learning conditions. This starts with paying teachers salaries that are comparable to other professionals with similar college degrees, and discharging debt for educators who are public servants. Cardona pointed to the Public Service Loan Forgiveness (PSLF) program that has forgiven more than $24 billion in loans for more than 2 million public servants. Cardona went on to call for better professional learning and career-expanding opportunities such as master teacher status, teacher leader experiences and free advancement education for those qualify. Free advancement courses are micro-courses for professional development and/or continuing education. He also stated that educators must have a voice in policymaking. 
Cardona's third  priority is pathways for global engagement and competitiveness. He argued that in order to raise the bar in education, we must reimagine college and career pathways. K–12 and higher education are currently disconnected, and the skills for high-paying jobs need to be better infused in the K–12 education system so students graduate from high school with different options for success. Avenues for this include dual enrollment courses and micro-credentialing that would allow high schoolers to graduate with an associate's degree or credential without paying a penny. Cardona urged listeners to dissolve the "4-year college or bust" narrative. 
Another area Cardona highlighted to increase global engagement was providing better opportunities for students to be multilingual. He argued that learning another or multiple languages should be expected of our students and will increase their opportunities for success. To increase multilingualism, Cardona stated that we must do the following:
Improve bilingual and dual language programs to follow the research on second language development .
Place a high value on having graduates be multilingua— recognition for that, such as a Seal of Biliteracy, should be celebrated at graduation as much as an honors cord. 
Improve multilingual education to give students opportunities to excel in global markets where multilingualism and cultural differences are embraced and valued. 
Lastly, Cardona called upon all policymakers and stakeholders to maximize the potential of our students, our schools and our country. He urged all to fight for sustainable, long-term state and local funding streams that will help make the American Rescue Plan a down payment for transformative change in education.  
He then joined the National Parent Teacher Association president for a fireside chat. While Cardona mostly reiterated points made in his speech, he spoke more about the need to engage parents in their child's education. He argued that we must reset what it means to engage parents authentically, and that part of this can be investing more in full-service community schools. He also argued for intentional collaboration among different agencies across federal, state and local government, saying that this type of collaboration was what helped schools reopen swiftly and safely, and that level of urgency is needed in education today. 
Click here to view a full transcript of Cardona's remarks.